Heathfield Community School
is part of the Cabot Learning Federation, a multi-academy trust that is responsible for a number of academies across Bristol, South Gloucestershire and North Somerset. Governance for a multi-academy trust operates at two levels. At trust level, there is a Board of Directors. The directors are accountable to the Department for Education and external government agencies, including the Charity Commission, for the quality of the education the trust provides and the effective use of the associated academy funding. They are required to have systems in place through which they can assure themselves of quality, financial probity, safety and good practice. The Board is provided assurance on a number of these areas through various sub-committees, as shown in the diagram below.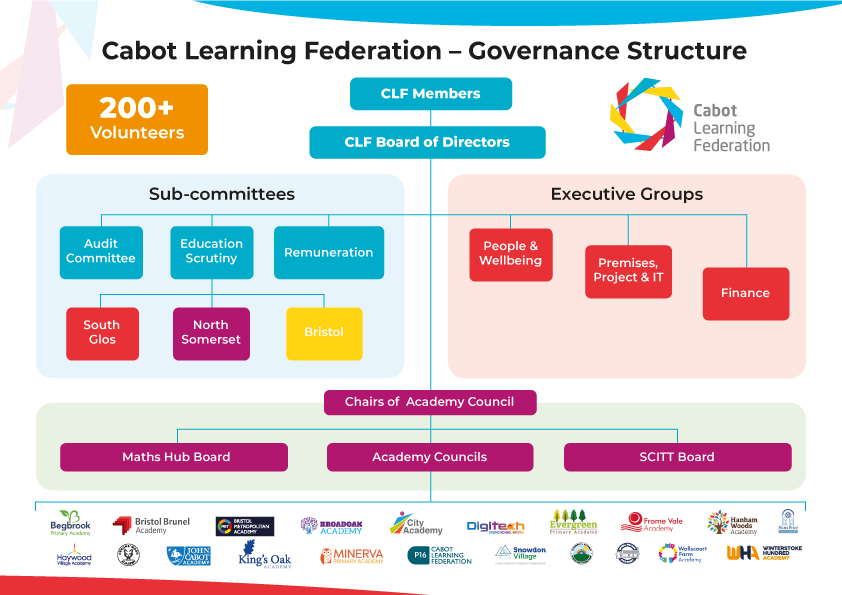 At a local level, each academy has an Academy Council comprising of up to 13 Academy Councillors. Academy Councils are responsible for holding Principals and their leadership teams to account for the quality and effectiveness of the academic experience of the students under their care with the aim of securing effective school improvement. They do this through monitoring performance against an annual academy improvement plan, through monitoring risks and responses to risks, and by overseeing systems and processes for the safeguarding of children and the health, safety and wellbeing of academy staff.
Chair of Interim Executive Board
Gail Webb MBE
, Chair of Academy Council
I've had a diverse career in education, starting as a teacher in the North West. I worked in primary and secondary schools, eventually becoming an Advisory Teacher for Science, deputy head teacher, and head teacher for Wirral LA. I then moved to Halton LA to establish a new unitary authority. Afterward, I returned to Wirral as Head of School Improvement, then became Director of Learning and Teaching for National Strategies. I worked in Oldham and Leeds as Head of School Improvement, while also advising Liverpool Hope University.
After retiring in 2015, I returned as Interim Head of School Improvement for North Somerset. From 2017 to 2021, I worked as a School Improvement Partner and Head of School for The Priory Learning Trust. Throughout my career, my passion has been to ensure all children have access to quality education. Gail serves as the SEN lead, safeguarding lead, and chair of the IEB.
Interim Executive Board Members
Dave Harvey
,
Vice Chair, Behaviour Lead
Dave has 40+ years of experience in education, holding various positions such as secondary teacher, head of department, and SLT member. He worked for Hampshire Local Authority, specialising in inclusion and managing teams for exclusion, attendance, EHE, CME, and alternative provision. As a senior LA officer, he supported and challenged schools, gaining valuable insights into education policy. Dave's expertise includes governance, strategic planning, data analysis, performance management, community relations, leadership, communication, HR, decision-making, complaints/grievances, monitoring, safeguarding, and children's services. Despite retiring in 2021, he remains involved with AEWM and AEHEP, attending monthly meetings with the DfE on attendance and EHE matters.
Andrew Stoodley
,
Finance & Premises Lead
Andrew, a seasoned finance director and chartered accountant since 1990, possesses extensive experience leading finance functions in prominent public and private companies. His notable positions include Finance Director of the electrical sector at Kingfisher plc, Group Finance Director at Darty plc, Group Financial Controller at Flybe plc, and most recently Group Finance Director at C & J Clark International (Clarks). Andrew has excelled in commercial insight, internal and external reporting, corporate finance, governance, and internal controls oversight. Additionally, he served as a community governor at Princes Risborough School from 2009 to 2015, contributing to the school's conversion to an academy and serving as a Director of the Academy Trust. Recently resigning from Clarks, Andrew plans to evaluate future career options and engage in voluntary roles to support the local community in preparation for full retirement in Taunton, where he relocated in 2016.
Until March 2022, Neville Coles served as CEO of The Priory Learning Trust (TPLT), a successful Multi Academy School Trust in south-west England. With 34 years of experience in education, he taught various subjects before becoming the Principal of Priory Community School. Under his leadership, the school achieved an "outstanding" rating from Ofsted and offered a diverse curriculum, including Mandarin and Latin. Neville excelled in managing complex organisations and prioritised creating strong relationships with clients and staff. He is a renowned educator, having been a Headteacher and an Ofsted inspector. Neville, now 56 and semi-retired, works part-time for a cost consultancy business and takes on education projects in the UK and UAE.
Catherine has more than 40 years of experience in education and training, having worked in various roles in higher education, further education, and government agencies. She has held positions such as director of finance, regional director, and led national intervention teams to improve post-16 education. Catherine's special interests include funding, governance, leadership, and organisational change. Even after retiring, she remains connected to education through governor and trustee roles. In recognition of her contributions, Catherine was awarded an OBE in 2012 for her services to education.
Wendy has a long career in education, starting as a humanities teacher and eventually specialising in Special Educational Needs. She worked in various roles for the Bristol Local Authority, supporting schools and conducting inspections for Ofsted. She later became a Director of Children's Services and Director of Schools for a charitable education trust, overseeing the establishment of free schools and sponsored academies. Wendy also served as an Education Adviser for the Department of Education, focusing on the Academies Programme. She has extensive experience advising governing bodies and Interim Education Boards, with expertise in strategic planning, leadership, and organisational change. Wendy retired during the Covid pandemic and lives in North Somerset with her husband.
Steve is the Chief Executive Officer of the Cabot Learning Federation.
Claire is the Executive Director for Children, Families and Education at Somerset Council.